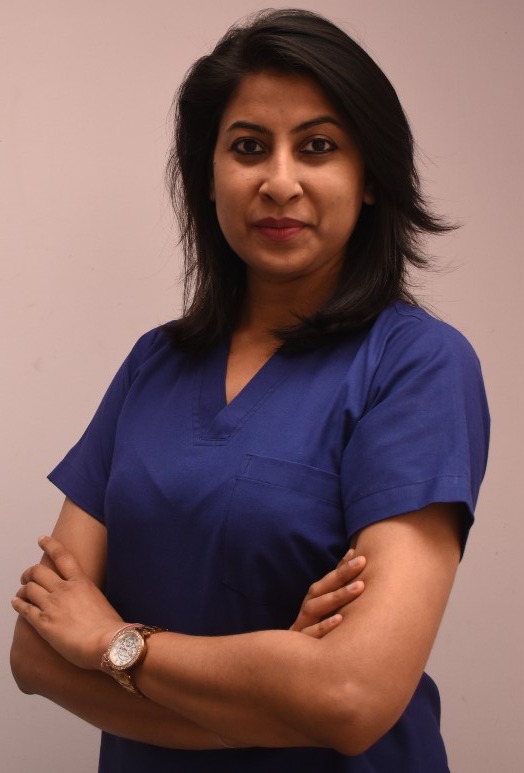 Dr. Mili Gupta (Director, AMD Dental Clinic)
Being 32 in number, teeth are often disregarded. Their health is very important. Everything goes in our body with minimum of one layer of filter everywhere except in mouth. What you eat, goes directly in your body. So start caring for these white pearls before you lose any. At AMD Dental Clinic, I will make sure that you and your family will be well taken care off and will get a state of the art of dental treatment.
- Dr. Mili Gupta (Director, AMD Dental Clinic)
M.D.S. and B.D.S. from the most prestigious universities like SDM College of Dental Sciences, Dharwad and Government Dental College, Jaipur, and Jaipur Dental College, Dr. Mili Gupta is a Prosthodontist, Implantologist, and leading Cosmetic Dentistry expert. Dr. Mili Gupta correctly is a diligent and passionate dentist who has bagged more than seven distinctions in Rajasthan University of Health Sciences (R.U.H.S) exams and was awarded the 'Outstanding Dentist Award' for being a B.D.S. Topper. In addition, she is the merit holder (Top 10) in Prosthodontics and Implantology at RGUHS University.
She possesses a keen interest in aesthetics and occlusion and currently offers patients a wide range of successful treatments like implants, full mouth rehabilitation, veneers and laminates, a maxillofacial prosthesis (eyes, ears, nose, obturator, etc.), overdentures, removable complete and partial denture, gum surgery and wisdom tooth removal, root canal treatment, tooth fillings, teeth whitening and TM Joint Disorders. For her exemplary work for patients, she was nominated as 'Best post-graduate of the year 2020' at Indian Dental Divas. Also, her tireless attempt to give the best looks to her patients has helped her win the GC Solare sculpt competition.
Her areas of expertize include:
Diagnosis of root problem and planning the treatment
Dental implants and CBCT based implant planning
Temporomandibular joint disorder like joint clicking sounds popping, etc
Occlusion specialist
Maxillofacial prosthetics expert (artificial eyes, nose, ear, obturator, etc.)
Removable and fixed denture (single day complete denture, cast partial denture, etc)
Cosmetic dentistry expert like veneers, laminates, tooth jewellery, bridal dental makeover
Crowns and bridges
Painless single sitting RCT
Dental filling
Teeth whitening
Teeth braces and clear aligners
Wisdom tooth removal
Kids dental treatment
Geriatric dentistry expert
She is exceptionally thorough in her knowledge and expresses a keen research interest. By the mere age of 27 years, Dr. Mili published various articles & case studies in international journals. She has published two papers in International Journal named- 'Stress Distribution Analysis at the Bone–Implant Interface Using Four Different Superstructure Materials in an Implant Retained Mandibular Overdenture: A Photoelastic Study' and 'A Study to Evaluate the Role of Macro, Micro, and Mini Esthetics in an Attractive Smile.'
She is an active member of the Indian Dental Association and Indian Prosthodontic Society. She has attended various conferences and presented her papers. She has been awarded for 'Best Paper Presentation' by the Indian Society of Oral Implantologists (ISOI).
Being naturally a confident and passionate dentist, ambitious Dr. Mili Gupta dreams of an India where dental treatments can also get insured so everybody has access to oral healthcare.