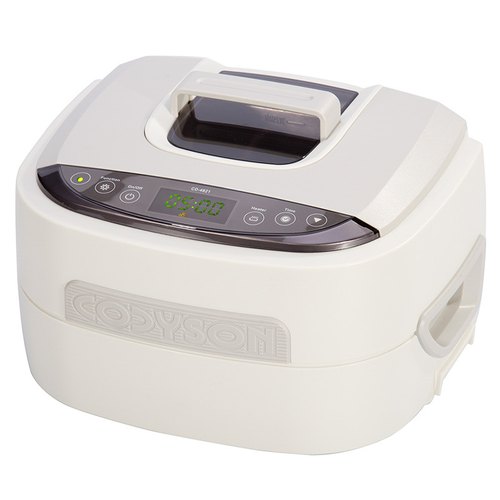 AMD Dental Clinic practices dental sterilization for the guaranteed safety of patients, dentists, and the whole team of staff. To prevent the growth of bacteria on instruments and to ensure that the germs in your mouth don't make it into anyone else's is the vital goal of sterilization, and we take it very seriously with various high-quality equipment and disinfectants. Spreading infection constitutes a significant risk during dental procedures, this is why ultrasonic cleaners are exceptionally popular in dentistry. No other cleaning method can precisely match the speed and accuracy of thorough cleaning of ultrasonic cleaners.
Your best dental clinic in Jaipur uses Codyson ultrasonic cleaner that helps our best dentists to disinfect their instruments, braces, dentures, etc. The cleaning procedure of Codyson ultrasonic is way different than regular cleaners, it typically forms sound waves which radiate through the liquid cleaning solution which triggers a process of forming and bursting millions of bio bubbles, this process is called cavitation. Cavitation disrupts the chemical bonds and organic debris formed on the surface of surgical instruments. Cavitation can reach in any minor cracks and crevices, which swiftly and safely blast loose and carry out contaminants on dental instrument surfaces.
Compared to mechanical washing and scrubbing, ultrasonic cleaning is a considerably more accelerated process and it offers better cleaning. The enzymatic process in an Ultrasonic cleaner decreases with frequent use, which can cause a performance reduction in the cleaning process. Your best dental clinic in Jaipur amends the cleaning solution daily to eliminate any risk of contamination.
Features of Codyson Ultrasonic Cleaner
• Centralised ultrasonic wave
• Overheat protection
• Detachable 304 Stainless Steel tank
• Large capacity of 2500ml
• Complete digital control
• Noise-free operation
Beyond dental equipment, Codyson ultrasonic cleaner can be used to clean items like dentures and retainers. Ultrasonic cleaners get rid of all odor-causing bacteria with their precision cleaning making dentures & retainers clean, fresh, and odorless.
Ultrasonic cleaning is one of the best and largest used across all medical professions, it is also recommended by CDC, the United States. Codyson ultrasonic cleaners not only minimize the potential risk of exposing patients, staff, and dentists to infectious bacteria but also increases the productivity of a dentist and staff by reducing the time of the cleaning process. This correctly is the reason why Codyson ultrasonic cleaner is an excellent choice of your best dental clinic in Jaipur.