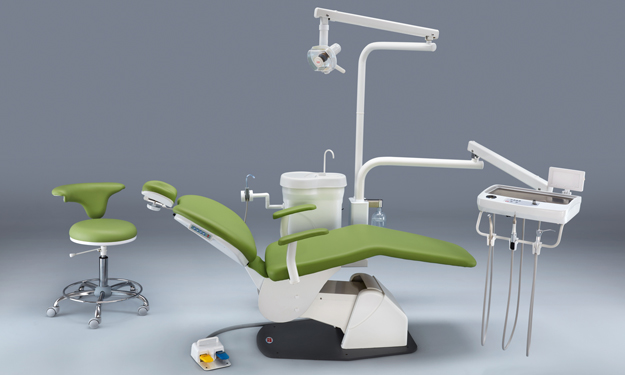 On an average, a patient suffering from a dental problem spends his/her 95% of the time on a dental chair during a visit to a dentist. The number itself suggests the importance of having a comfortable and well-equipped rich dental chair, to make sure of this, AMD Dental Clinic is uniquely equipped with best in class Confident wave chair mount unit with suction and compressor.
Confident is the best dental chair brand in India which supplies all types of dental chairs, completely manufactured in India.
The Confident wave chair is completely electronically operated, body contoured with Halogen Operating light having two intensities which reduce movements of a dentist allowing to offer comfortable treatment to the patient.
A Confident Wave chair offers additional features such as.
• Porcelain spittoon with water connection
• Air venture for high Suction and compression
• Hanging cords with Modular Trolley
• Supreme Micromotor
• Stainless Steel instrument Tray & three-way syringe
• dental X-ray viewer
As they say, having a relaxed patient is inevitably a positive side that allows our best dentists to perform the treatment to the best of their abilities. A Confident wave chair offers maximum comfort to a patient with its exceptional design and ease of access to the dentist while operating a patient, which naturally makes it a perfect fit for the best dental clinic in Jaipur. To offer the most technically advanced & affordable treatment for any kind of dental problem in Jaipur, AMD Dental Clinic is adequately equipped with the most comfortable Confident wave chair.