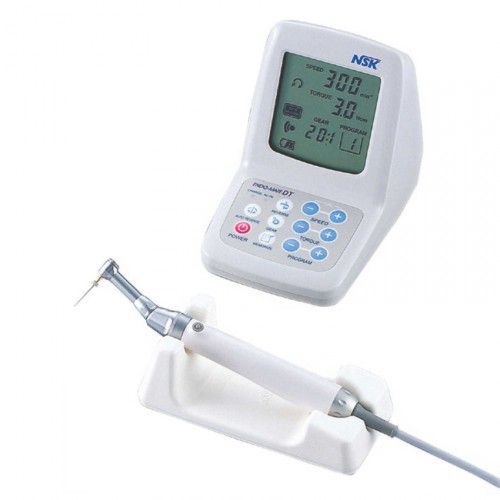 The Root Canal treatment (RCT) is always considered a painful treatment amongst patients, but in recent years with all the recent technology and modernized equipment, it has become remarkably painless. One of the major pieces of equipment which reduces pain and allows the dentist to extract an exact measure of the root for NI-TI files used with Endo Motor.
Endo motors offer suitable programmable settings for Ni-Ti files to be operated with slow-speed, low-torque electric motors with constant and precise torque for the root canal being treated precisely. AMD Dental Clinic uses Endo Motor from a brand named NSK, which is a Japanese manufacturer of various dental equipment and is well known globally. NSK Endo Motor offers Push Type Ultra Miniature Head which allows fast and easy exchange of files during Root Canal treatment (RCT).
NSK Endo Motor comes with a head angle that can be adjusted to the best angle for treatment, this allows dentists to gain access to critical areas of a patient's mouth easily. NSK Endo Motor memorizes exact speed and torque settings for up to nine Ni-Ti endodontic files. This instrument along with Ni-Ti rotary files makes any critical root canal easy for dentists.
Your best dental clinic believes in the modern-day and ultra-precise techniques to treat patients in pain, in this way AMD Dental Clinic minifies the use of hand inherently stiff files and is comparatively less elastic. Hand files also possess a natural tendency of being straight in the canal which leads to procedural errors like canal transportation, ledging, etc. Our dentists acknowledge the limitations of hand files like so offers the best possible treatment without any errors in treatment offered, AMD Dental Clinic offers single sitting root canal treatment with mechanically operated NSK endo motor.