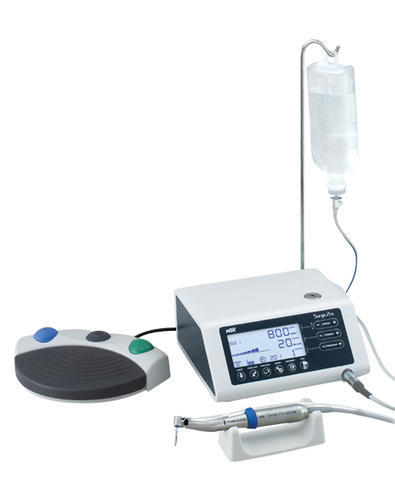 dental implants remain an incredibly important treatment when it typically comes to modern dentistry, not merely require much practical experience, incredible precision from successful dentists but also high-end technology like Physiodispenser.
Dr. Mili Gupta and Dr. Divya Agrawal from AMD Dental Clinic are masters in implantology and offer 11 years of experience. They have successfully carried out more than 500 dental implants.
AMD Dental Clinic also makes sure of generously offering the most recent technology like NSK Physiodispenser. NSK represents a globally recognized brand and is sincerely trusted by thousands of dentists worldwide.
Physiodispenser is a crucial electrical device that helps in the placement of dental implants. It is uniquely designed for oral and implant surgery. It delivers the unparalleled power and precision needed for the procedure.
NSK Physiodispenser offers an extensive range of speed which generously allows dentists flexibility and fast response required for these specific procedures. This specialized equipment is super easy to operate and specially designed to use in the sterilized theatre environment. Plus it can be operated efficiently with the foot as well, which adequately provides extra comfort to the dentist while focusing on the patient.
Additional advantages of NSK Physiodispenser
1. Double sealing system
2. Stress-free body shape
3. Speed control for accurate drilling
4. Powerful torque to gently place dental implants in dense bones
5. Excellent durable design
6. Advanced handpiece calibration for proportional torque & speed accuracy with
control unit
7. Data storage and automatic preference recording up to 8 settings.
8. It does not generate any friction by rotation at low speed to scrupulously avoid
generating heat.
9. Available with a brushless micromotor allowing multiple settings for the procedure.
10. Control settings are available for irrigant flow, drilling speed, etc. which remains critically significant factors for successful osseointegration.
NSK Physiodispenser typically offers unerring accuracy and various speeds and torque range during the standard procedure which assists our dentists to conveniently carry out successful operations with ease. Its touch buttons and digital display make it easy to operate and read the position of the handpiece. NSK Physiodispenser represents an inseparable part of this accomplished mission of AMD Dental Clinic because it offers great flexibility and response in the procedure to our Best dentists in Jaipur.