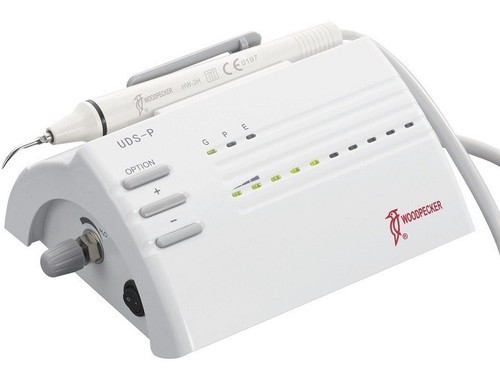 Our teeth form a hardened dental plaque on their surface which results in bad breath, receding gums, etc. Brushing and flossing can remove dental plaque until a level but it is too hard and firmly attached to be removed with a toothbrush. In such cases, our dentists earnestly recommend an ultrasonic dental scaler for oral prophylaxis.
Ultrasonic scalers remove calculus rapidly from the surface of a tooth with its vibrating tip in an optimized manner cooled with a jet of water. AMD Dental Clinic uses the best-in-class Woodpecker scaler unit for the procedure.
Woodpecker scaler unit offers an automatic frequency tracking feature, to ensure the best frequency and steady performance of the machine, it comes with an optical handpiece made up of Titanium alloy to ensure sound mechanical function and durability for convenience clinical operation.
Woodpecker removes any possible kind of dental calculus, bacterial plaque, and tea tobacco stains, etc. extrinsic stains on the teeth without hurting the patient's gum or the enamel. It is digitally operated and allows very quick and effective cavitation removal.
AMD Dental Clinic believes in using equipment that is certified by major government authorities like CA and FDA to offer maximum safety to the patient in any dental treatment he/she is undergoing. Woodpecker is FDA and CA-approved scaler unit which naturally makes it the best fit for the best dental clinic in Jaipur.