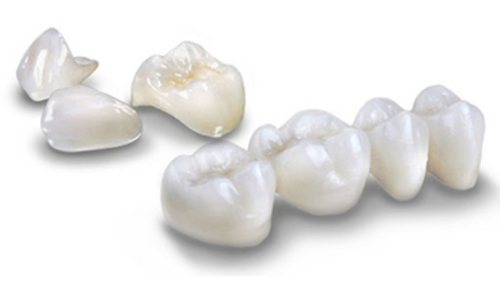 Dr. Mili Gupta is a leading specialist in artificial teeth and crowns (teeth cap). She undoubtedly has extensive knowledge of all sorts of materials for your artificial tooth crown.
Many times patients are not guided well for the paramount importance of a crown after Root canal treatment, which may result in the fracture of a tooth during mastication. We at AMD Dental Clinic provide you with an extensive range of viable options and assist you in choosing your perfect tooth crown.
- Dr. Mili Gupta (Director, AMD Dental Clinic)
Dental crown (tooth caps) come in various materials, we ensure you undoubtedly get the best tooth crown. Our dentists typically take an active part in the discussion with patients to help them carefully choose the best option among the various teeth crown. Zirconia teeth crowns, EMax teeth crowns, and PEEK dental crowns are flooding the market but which is genuinely best for you? This correctly is where the practical experience and extensive knowledge of the our dentists come into play. We have 3M Lava Zirconia crowns available along with various other alternate brands.
Zirconia tooth crowns represent stronger and fully esthetic alternatives to the metal and PFM crowns. Zirconia crowns (tooth caps) come with a standard warranty and can last up to five to fifteen years. Zirconia is the best choice for the teeth crown at the back of the mouth and the most beneficial part is, it is biocompatible. No complaints of a blackish hue in gums and metal chip-off are a few other added advantages of zirconia crowns. In terms of zirconia crown cost (tooth cap cost), we maintain a vast range of options to aid you to choose the best in your budget. High Translucency and excellent color matching that helps in mimicking adjacent teeth sometimes make it difficult to discriminate between a natural tooth and a zirconia crown.
AMD Dental Clinic, which is uniquely equipped with the most appropriate options for your dental crowns and bridges offers 5 - 15 years of warranty on 3M Lava zirconia crowns. Dr. Mili Gupta also makes sure to advise patients on how to take care of these crowns and things to avoid increasing the longevity of a zirconia crown.
So don't delay and get your tooth cap done at AMD Dental Clinic.