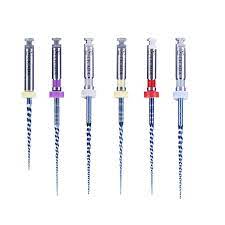 Most of the patients visit a dentist for tooth pain or when their Root Canal treated tooth is however painful. The latter might happen due to file breakage or improper filling of the root canal. Team of dentists at AMD Dental Clinic understand the anatomy of your tooth properly therefore we do not place our patients at any of such risks. We typically use Ni-Ti endodontic files (rotary and hand) which are flexible and fracture proof. Ni-Ti (45% Nickel and 55% Titanium) efficiently is a unique material that possesses shape memory. In a Root Canal procedure, when the root is curved and is hard to access, dentists use these Ni-Ti endo files so that they can imitate the anatomical shape of the root canal during the Root Canal dental procedure (RCT) which typically allows it to track canal curvatures with less stress and proportionately increased safety.
When temperature or pressure changes (during sterilization), the shape memory of the file automatically returns it to its original shape. AMD Dental Clinic offers the best quality Ni-Ti endodontic files which efficiently are fracture proof, this allows dentists to access the complicated root canal without succinctly putting the patient's oral health at risk.
Ni-Ti endodontic files are revolutionary in dentistry. We at AMD Dental Clinic make sure of offering the best quality fracture-free Ni-Ti endo files to progressively eliminate possible risk and generously offer the best dental care in Jaipur, Rajasthan.