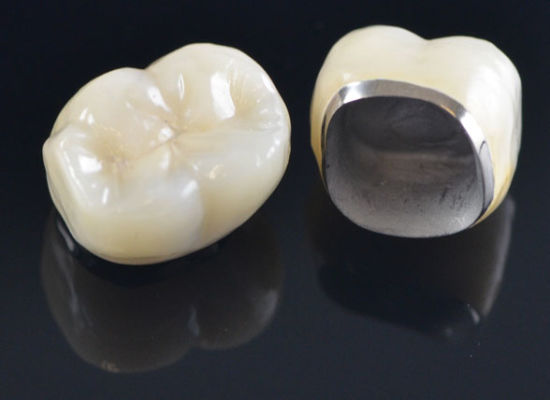 To make dental care more affordable for everyone, AMD Dental Clinic offers an affordable option of Porcelain fused metal dental crowns which are comparatively cheaper.
Porcelain fused to metal (PFM) crowns represent the old player of the game, dentists are using these crowns for over 200 years now! As you can guess by the name, it is metal crowns with a layer of porcelain fused on the metal. The metal framework is thin and strong. It is a precise fit for the prepared tooth. The porcelain layer is tough and can easily withstand chewing force. Glorious PFM crowns are extremely durable and the porcelain coating helps to mimic your natural teeth. We invariably prefer PFM in specific cases of long-span pontic bridges (over 4 crowns) where the other materials may persistently fail in practical terms of durability. On top of that if you are a night grinder then PFM crowns may be a blessing. We have Dr. Mili Gupta, M.D.S (Prosthodontics and Crown and Bridge) in our panel and she typically takes many things into consideration especially the patient's bite, habits, etc. before suggesting the necessary material to the patient.
However, because of the reported case of porcelain chip off in extensive literature, we at AMD Dental Clinic offer 5 years of standard warranty on PFM crowns and it has a great success rate amongst our patients. If you are worried about metal being typically used in the crown, you can opt-in for metal-free solutions with our dentist's help.